Lodge News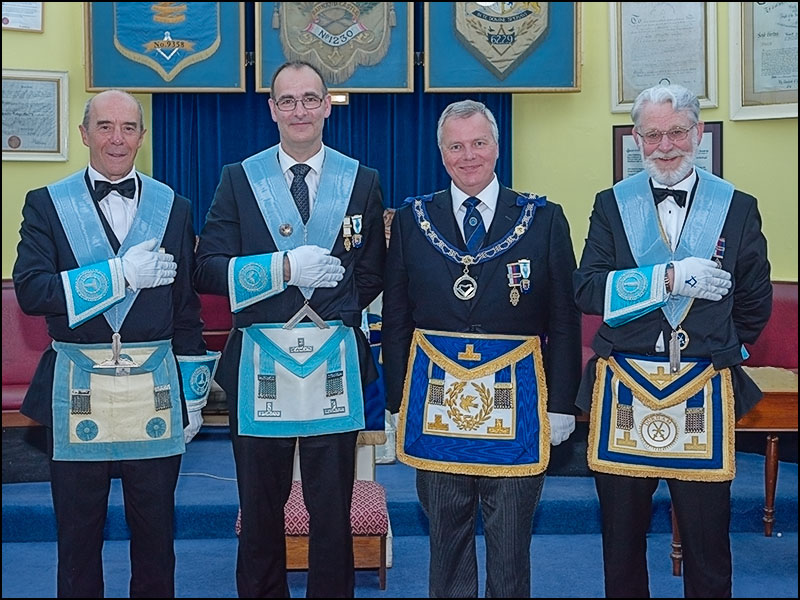 On May 11th 2016 the Strathmore Lodge celebrated its 700th meeting at Barnard Castle. WBro Stephen Walker, AProvGM delivered the annual Hutchinson Lecture, and on this notable occasion he gave some interesting insights into the working of Grand Lodge.

At the second rising he was asked to present to the WM, WBro Anthony Hobson, the SW, Bro Jem Smith, and the JW, WBro Brian Harrison, new gauntlets, purchased from part of a legacy left to the lodge by the late WBro A E(ddie) Pooley, a Past Master and former Directory of Ceremonies of the Lodge. The new gauntlets will hopefully provide a long lasting and useful memorial to a much respected Brother, and replace the originals which had served faithfully for seventy years since the inception of the Lodge.

WBro Walker was then presented with a cheque for £700 as a further contribution from the Strathmore Lodge to the 2021 Festival.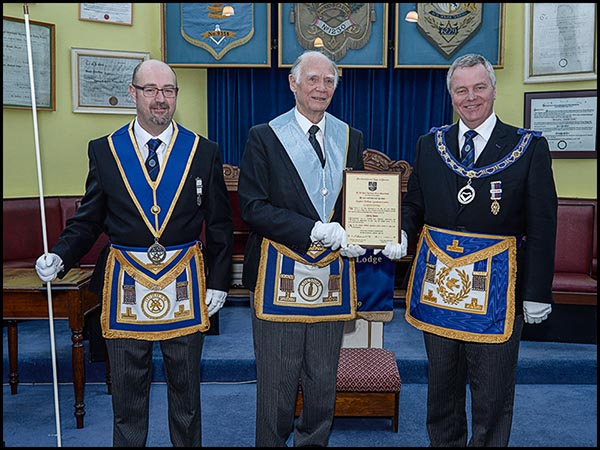 13th January 2016 - W. Bro. Stephen Carter, PPJGW (Chesire), LGR, with his 60 year certificate flanked by W. Bro. Stephen Walker, Junior Grand Deacon, Assistant Provincial Grand Master and Assistant Provincial Grand Director of Ceremonies W. Bro. Stephen Hall.
The lodge supports Masonic charity each year - the major recipient has been the Royal Masonic Institute for Boys and Girls, which provides educational assistance to dependents of Masons and others; over £5000 has been donated in the last four years to an appeal which officially starts this month.
In addition the lodge annually supports the Provincial Benevolent Committee which provides grants to Masonic and non-Masonic "good causes;" also the Teddies appeal, which sees a Teddy Bear being given to every child who enters one of the county's Accident & Emergency departments; we have also given support to the Durham Cathedral Kitchen floor project.
Besides Masonic charities, we also always try to look favourably on non-Masonic appeals; in 2012 we supported a young man on his Gap year in Chile; in 2014 we gave support to three local Scouts attending the 23rd World Scout Jamboree; in the last two years we have also supported "Smile for a Child" and "A promise for Zac," besides making donations to the Witham Hall appeal, the 2015 Barnard Castle Christmas Lights appeal, the Friends of the Richardson Hospital and the Stroke Rehabilitation Unit at Bishop Auckland General Hospital.